Hidden Hazard® Reviews
I truly enjoy helping home buyers and it shows in my work
Truth be told, I am older than Google. In recent years business owners seem to rely solely on their Google reviews to show they are worthy. However, before Google, old-school business owners like myself received hand-written thank you notes or emails from clients expressing their gratitude for a job well done. Also known as testimonials. Over the years I have accumulated quite the collection of old-school testimonials (Hidden Hazard® Reviews).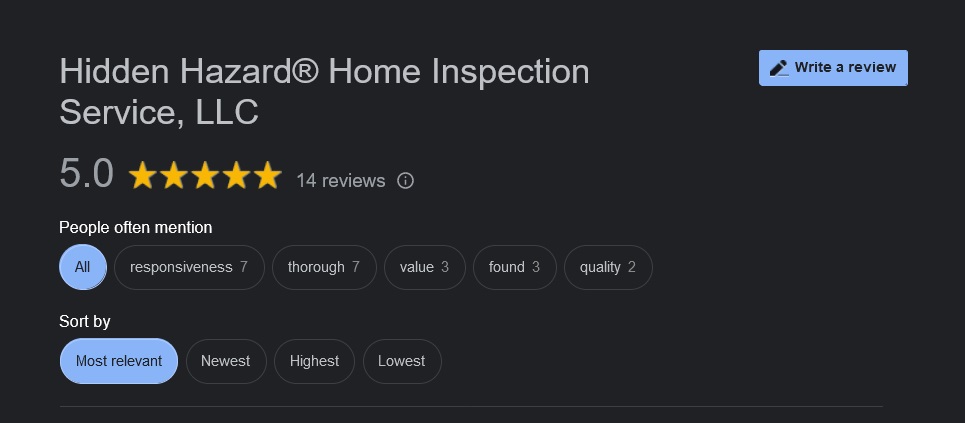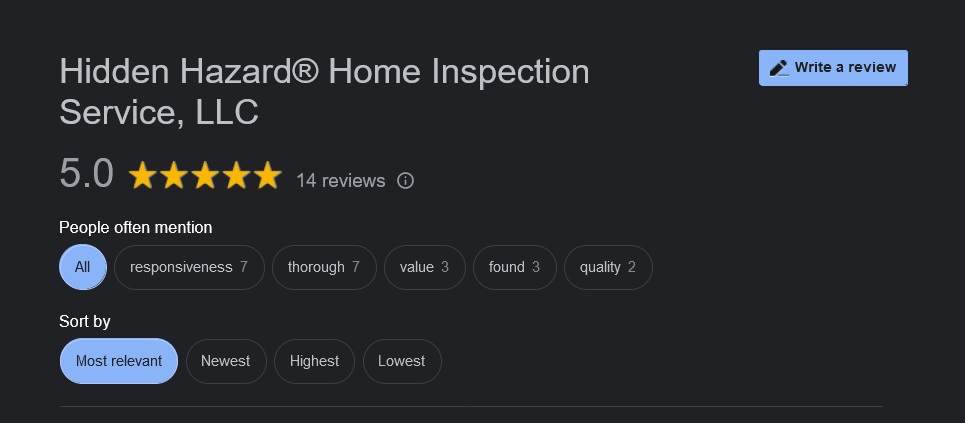 Here is what a few of my previous clients had to say:
"This was the most thorough and professional home inspection we have ever had and we have been buying homes since 1961.
A complete and detailed report with pictures illustrating each detail was sent to us following the home inspection. This will aid us in any home repairs we need to make. Thank You."
Gene & Marie H.
"This is the third home inspection I have been through and you have been the most thorough and explanatory. From walking me through the entire process and answering all of my questions. Your inspection report was very detailed and included all the points we talked about throughout the home inspection. I feel more comfortable after having you complete the home inspection and will reference you in the future. Keep up the good work."
Dan H.
"I just wanted to thank you for a job well done. I have used home inspectors in the past, but your inspection and report was the most complete I have ever seen. Thanks again."
John F.
"Your inspection was wonderful! Thank you for helping me as a first time home buyer to understand more about my home and to feel more secure about my purchase. You're very thorough, and that's exactly what I needed! Thank you for taking the time to bring me along during my inspection and explaining so much. When it comes time to buy a bigger house, you'll be the one I call to inspect it! Thank you very much!"
Jama M.
"If you need a home inspection, this is the best guy you'll ever find. He is very thorough & gives you a detailed report with pictures of all your issues. Very detailed but easy to read and understand."
Audra B.
"I was very pleased with your inspection. It was done in a very professional manner. The report was wonderful to have in hand to have a physical representation to refer to when need be. Thank you so much and I will highly recommend your services."
Jennifer S.
"As a first-time home buyer, I am extremely pleased with the service I received from this company. The inspector is very nice, in depth, thorough, and knowledgeable of his job. I got great results also, and I would definitely recommend him to anyone buying a home. The price was very reasonable for the time & effort he puts into each home. Thanks Again!"
Susie A.
"Kim and I just wanted to thank you for the work you did. We felt you did an excellent job and we appreciate all the time you took. We are closing on the house tomorrow and we had the sellers take care of some of the things that you brought out. Thank you for your help. We will be glad to recommend you in the future."
Devon and Kim S.
"I was very pleased with the service provided by this company. The inspector was very professional and explained in detail his findings and made sure I understood everything needed to resolve my home issues."
Dottie M.
"Just received and quickly reviewed the home inspection report and I am so impressed. The report is above and beyond anything I expected and will be so helpful to me. I sincerely thank you for your expertise and thoroughness. Your company performs a very necessary service and your work is exemplary. I did the right thing by calling you. I am very grateful; your inspection has saved me tens of thousands of dollars and much anxiety. I will highly recommend you to others and you may have prospective clients call me for a reference if one is requested."
Emma O.
"We are extremely grateful that we used you to perform our home inspection!
Being first time home buyers, we were nervous about the entire process. You never know what you may find! However, as soon as we met you, we knew that any problems our new home may have would be uncovered. You were so diligent, and professional. You made the entire process so simple and easy to understand, as well.
I will surely recommend you in the future! Thank you again for your assistance."
Evan and Leslie B.
"I would highly recommend this company as your next home inspector. I have bought 5 or 6 homes without an inspection but this time I did and it was very well worth it. Saved a lot of money finding the problems with a home before buying it and getting it fixed before buying. Also, learned many things to be watching out for that may turn into trouble later down the road. Thanks!"
David T.
"I am happy with my decision to use this company for my home inspection. The inspector was very professional and gave helpful recommendations. It is always a good idea to find out the condition of the home you are about to purchase. Thank You so much."
Jeff W.
"We were more than satisfied with this inspection service. We would not hesitate to recommend him to anyone and would certainly use him again ourselves."
Carol and Lee W.
"Mr. Turner has truly found his calling: home inspection. He was able to check and give expert feedback that made sense on all the things I had no clue how to check. Thorough, professional and great follow through."
Ron M.
"It was truly amazing how in detail he inspected the house, if it wasn't for him we would've overlooked many of the house's most troublesome defects, Thanks!"
Ben B.
"I would like to thank you for the excellent service and follow up! Your inspection was very thorough and informative. I have confidence that my new home is a solid investment and recommend you to anyone who is purchasing a home."
Joann Z.
"Awesome person to work with. Very knowledgeable and extremely professional. Will definitely recommend to anyone needing a home inspection!"
Tyler C.
"Glad we selected you to do our home inspection. Very detailed and the advice was very helpful. Thank you!"
Dan & Kay T.
"I would recommend him to anyone looking to get a home inspection. I loved that he was so thorough with everything and wanted to make sure everything was properly inspected. He also took the time to answer any additional questions we had. Thank you again!"
Sara M.
"I was very happy with the service. I was impressed with the written report and found it very comforting to know that the appropriate steps were taken to make sure our first home is a good home. Thank You!"
Heather B.
"We were very happy with the home inspection. It was very thorough and professional. The inspection saved us money and gave us peace of mind moving into our new home. We would definitely recommend your service!"
Donna B.
"Fantastic service by a professional home inspector. He checked everything and explained all the discrepancies he discovered and what it would take to correct them in a very simple and understandable way. I wouldn't be buying my house without his inspection."
Mark S.
"We wanted to thank you for a very through and professional job. With us living in Oklahoma it was hard to just trust someone over the phone, but the digital photos and detailed report made it easy to see everything you did. It was absolutely worth every penny. We will definitely use your services again when we need them."
Jim and Gina X.
"He did an extraordinary job. He performed his duties above and beyond my expectations. The process of conducting a long distant transaction was conducted in a professional manner and his communication was superb. I felt confident and informed during the inspection and would highly recommend him to anyone. Thanks!"
Roger and Sharon S.
"We were very pleased with the services provided by your inspection company. The job was done in a very timely basis based on a short notice and was very complete. I would say the service performed exceeded our expectations. Would recommend them."
Gary J.
"Thanks for the inspection. It was a very good experience for me and appreciate you being so detailed with everything. I know what needs to be fixed and I have a great reference sheets to go by when I get ready to tackle the problems. Service was excellent from the beginning to the end."
Kent D.
"I was very satisfied with your help and services. With it being our first home to purchase, you really helped us to see what was wrong and what needed to be fixed even down to minor problems. We also felt that honesty is your #1 priority. We again appreciate all that you have done in helping us get our very first home. We would gladly refer you to anyone we can. Thanks!"
Caleb and Heather H.
"I was purchasing a house that many people said "probably didn't need a home inspection." I did it anyway because I would rather be safe than sorry. Your thorough inspection found many flaws with the house that were unseen to the naked eye. I was fortunate enough to be able to meet the inspector on-site for him to personally show me everything that he had found. Many of these things were minor but could be potentially dangerous if not addressed properly. I asked the seller to fix them before the appraisal because some of these things could have disqualified the house for a FHA loan. Now things are looking smooth and I am more confident in the house that I am purchasing. That sense of comfort was well worth the price! If I ever purchase another house in the area, I will be contacting you again for my next home inspection."
Brian H.
More Hidden Hazard® Reviews
"Well worth the money for the peace of mind. Also the inspection gives you a third party not involved in selling or buying of the home that helps both parties in coming to a mutual agreement on any repairs that need fixing. Help me with the mortgage company knowing I was having the home inspected and they would be receiving a copy of an independent party report. Thanks again for a piece of mind and relieving unnecessary arguments with the seller."
Robert P.
"Very thorough home inspection. Took lots of time and attention to detail for a very reasonable price!"
Katie B.
"I would have to say that you were very professional. One of the most thorough inspections I have ever seen and at a reasonable price. Thank you again."
Derrick R.
"Thank you for your prompt inspection of our current purchase! You helped us in foreseeing any potential problems from the very beginning and keeping any "surprises" to a minimum."
Darrel and Mary W
"We appreciated your professional competence and helpfulness through two home inspections. We highly recommend your services."
Ken and Martha W.
"He was punctual, precise, professional, and extremely thorough! The report (received the same day the inspection was performed) included many excellent quality photo's, and details far above any I have received in previous home inspections. I learned so much during the inspection that I feel I have lived in the home for years. I highly recommend his services."
Nick P.
"I found you to be knowledgeable, efficient and reasonable as far as cost is concerned. The report you provided was comprehensive and organized in a way that was easy for me to understand. The photos were an added plus. I would not hesitate to refer you to someone else and hope I have the opportunity to do in the future."
Elizabeth Y.
"Very informative inspection for a first time home buyer. He did a very thorough inspection and gave me a lot of information for the needed repairs."
Nicholas F.
"You were very knowledgeable on details and your service was very impressible. I'm glad to know that your knowledge was enough to make a decision on whether to buy the home I was looking at. I would recommend your services any time. Thank You."
Jennifer S.
"Very thorough and very professional inspection. I would recommend your service to anyone buying a home."
Kim and Stanley W.
"I thought you were precise and am planning on using your services again on my next home purchase. Thank you."
Naomi K.
"We were extremely happy with the service. He was very informative and helpful throughout the inspection. He didn't miss a thing. We feel a lot more comfortable knowing that everything has been checked and are reassured that we are buying a good house. Thanks so much."
Adam and Paige B.
"Thank you for doing a very detailed job. I feel like I know the house much better after following you around. I will recommend your services each chance I get. Thanks again."
Gene W.
"We are very pleased with the outstanding level of service and professionalism you provided. You are a very competent and capable home inspector, well worth every penny and more. You went above and beyond what was expected both during and after the home inspection. We would recommend your inspection service to anyone at any time!"
Steve and Stacey S.
"He is a very knowledgeable home inspector. He explained everything in a way that people who have no home experience could easily understand. I will definitely use him for my next home inspection and I highly recommended him to anyone buying a home!"
Elizabeth C.
"Thank you for the time that you spent with us while inspecting our new home. You definitely went above and beyond and you went into great detail to make sure we had peace of mind. You came highly recommended and will continue to be highly recommended. Thank you, again, as we feel completely satisfied with the inspection to buy the home of our dreams!!!!!"
Robin & James B.
"Your home inspection was very thorough and provided detailed information not seen from others in your field. My realtor told me you spent five hours inspecting the property that we were interested in buying. Thanks to your assessment, we were able to avoid moving into what could have become a money pit. We will use your services again as we continue to shop for a home."
Wayne M.
"I appreciate your quick and comprehensive inspection of the property I am interested in buying. Having a professional inspection is always a good idea, especially if you are from a different area. You have been extremely helpful and did a very exhausting inspection. I do appreciate your help in this matter!!! Thanks Again!"
Randy P.
"We found him to be very competent and thorough. We were very impressed with the inspection that he did for us and with the detailed report that he prepared. We highly recommend him."
Linda & Jim S.
"Thank you for doing such a thorough job and for providing a concise, informative report. I was able to use your report as a guide when scheduling contractors for estimates. I had used a different home inspection service last year and was not at all pleased. Thank you again for a fine job!"
Regina H.
"I was very pleased with the home inspection performed. His inspection was very thorough and he took me through the house and explained all areas of concern. It was one of the few hassle free things about buying a house."
Tanya R.
"I am very happy with the home inspection that you did for me. I really appreciate the detailed description and grateful for the pictures you provided. I am very glad that you were recommended to me. Thank you so much for a job well done. I will definitely recommend you to anyone that is purchasing a home."
Brenda L.
"I was extremely pleased with the service. Your professionalism was remarkable, detailed analysis was informative. I would highly recommend you to any home buyer or current homeowner. You will not be disappointed. The pricing was affordable. I am very pleased with the results.
Loretta T.
"We were very fortunate to find a home inspector that paid such attention to detail and wrote an incredible report that gave us something that mere words could not, pictures. Your attention to detail made our home buying decision an easy one. On a scale of one to ten, your performance rates the highest, a perfect ten. Thanks again for a great job done."
Tony and Lee S.
"I was very impressed with your thoroughness and professionalism. I very much appreciated the communication, both verbal and written. I have already recommended you to others and will continue to do so. Should I need your services again in the future, I will not hesitate to call you. Thank you very much for a job well done at reasonable price. I believe it was money well spent for a valuable decision making tool."
Mary R.
"I was so pleased with my home inspection. He is very thorough and provides a great report! His knowledge is very impressive yet he explains things in a very easy to understand way. If I need another inspection in this area I will not hesitate to use his services again."
Sebastien D.
It has been a pleasure meeting you and I thank you for your thoroughness and professionalism. I will definitely remember you and refer you to others."
Ronnie and Jennifer P.
"Thank you so much for your inspection and report. You may have actually saved us a lifetime of headache and hassles. I am truly grateful for spending the best $325 of my life."
LaTonya D.
"Kathy and I were very impressed with the level of knowledge you have regarding home inspection. We had no idea that all the things you checked would be included. Following you around the house was a real eye opener and your explanations as we went along will aid us in the future to keep an eye on several systems in the house that I am sure we would not have thought about, until it was too late. Your descriptions were easy to understand, but also contained enough technical information to keep it relevant to the topic you were describing. Overall, although a lengthy process, it was very well worth our time and money to have you come and perform the house inspection. Needless to say, if we were ever asked to provide a recommendation, we would cheerfully provide one. Thank you again for your professionalism and courtesy as we went through this process."
Ken and Kathy H.
Even More Hidden Hazard® Reviews
"I am so glad I had this home inspection done. When you buy an older home it pays to have this done. If anything breaks down like the furnace a short time after you move in you will ask yourself, why didn't I have that home inspection done, like they mentioned to me? Oh yeah, I remember I wanted to save the $350.00 and figured they would tell the truth if something needed fixing! Peace of mind, just do it. We did and we had a great inspector. He was very good and through. We found out the air conditioning was a 1983, this is 2010! It had been repaired several times by the home owner but at the age you know it is past its prime, so had we not had this inspection we would have not known until it broke down and we were told it need replacing at a cost of $5,000 or more dollars. Thank you for your excellent work. I would recommend to anyone who is on limited income or resources to have a home inspection. A Job well done."
Diane P.
"We received a very thorough report on the home we are purchasing. The home is a foreclosure and we are purchasing "as is". The report he sent us will help us decide which items need to be repaired immediately and what we can work on later."
David & Rebecca L.
"I was thoroughly impressed by your professionalism, attention to detail, and good attitude throughout the entire process. I wouldn't hesitate to use you again, or refer others to you."
Dennis R.
"He was very professional, knowledgeable and detailed through the whole inspection, with a full written report (delivered the very next day) to match. If we buy another home in his service area, we will be sure to book him."
Randy K.
"We were well pleased with both your professionalism and your courtesy. You were extremely thorough in your inspection and gave us good insights as to any future problems that might arise. You spent many hours and were timely in reporting your findings. Thanks once again."
Wayne & Irene Y.
"My husband and I were very satisfied with the inspection and report. It resulted in getting a new roof on property before buying. Thank you. We would refer you anytime."
Avis S.
"I was very impressed with the service I received. With the 100+ temperatures we had he still managed to spend time in the attic on a very hot day. I was very pleased with the inspection and satisfied with the service."
Mark C.
"The thorough inspection provided me with valuable knowledge of the condition of the home and how to keep the components working properly. The report was ready the next morning and is easy to understand with pictures of repairs needed. The report was a valuable tool in completing the sale process and will be helpful for years to come.
Mary L.
"I debated on having the house inspected and am very thankful that I did. The inspection was very through and the information provided will save us headaches and expense down the road. Outstanding!"
Vickie T.
In addition to home buyer inspections, I offer additional services, such as mold inspections & mold testing, 4 point inspections, wind mitigations, new construction inspections and home watch services.
Please feel free to call (239) 322-0836 or email me at [email protected] with any of your home inspection questions